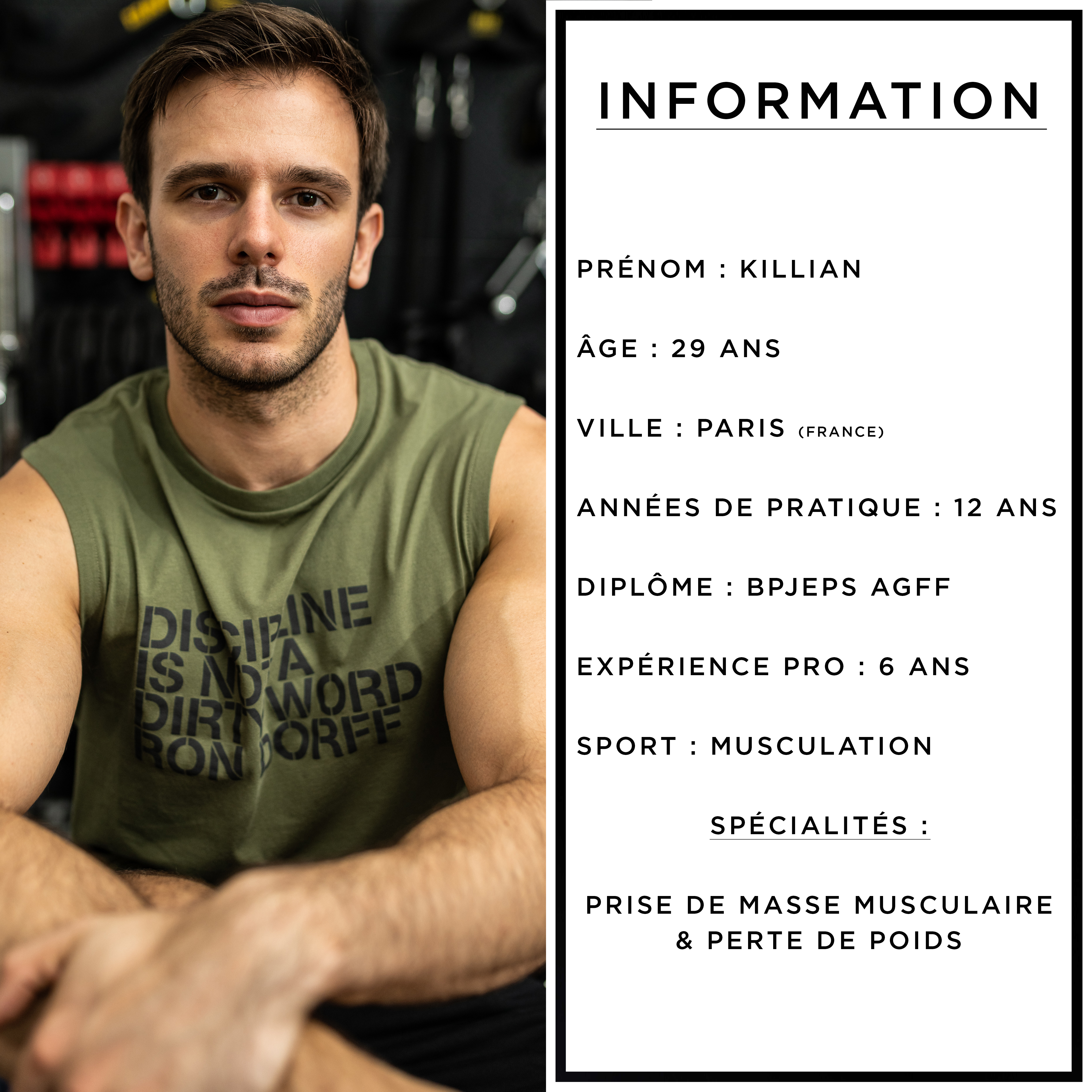 Carte professionnelle : cliquez ici
Instagram :
@killian___

FRANÇAIS

Passionné depuis toujours par tous les sports, j'ai pratiqué de manière intensive dès l'âge de cinq ans le football, puis à onze ans le tennis de table, à quinze le badminton, tout en m'initiant à divers sports tels que boxe anglaise, kickboxing, squash et la course à pied. Mais c'est la musculation, que j'ai commencée à mes dix-sept ans, qui a pris le dessus et est devenue ma passion.
Ayant commencé un cycle d'études supérieures (droit) dans le but de devenir avocat, j'ai choisi de ne pas passer le concours du Barreau afin de faire de cette passion ma profession.
J'ai donc entrepris des études dans ce domaine et obtenu à vingt-trois ans en 2017 le diplôme sanctionnant ma formation d'éducateur sportif (Brevet Professionnel des Activités de la Forme et de la Force). La pratique rigoureuse de la musculation m'a permis de passer d'un physique de 63 kg à 17 ans à 77 kg à 29 ans pour 1,77m, augmentant considérablement mon capital confiance.
Par ailleurs, je continue au quotidien d'apprendre de mes clients comme dans mon entraînement personnel et dans ma documentation afin de renforcer ma base de connaissances.
C'est pourquoi, aujourd'hui, fort de mes six ans d'expérience professionnelle et de mes douze ans de pratiquant, je suis en mesure de vous permettre d'atteindre vos objectifs tant au niveau du sport que de la santé et du bien-être.

ENGLISH
Ever passionate about sports, since age five, I have intensively practised soccer, then table tennis at age eleven and badminton at age fifteen, while acquainting myself with various sports such as boxing, kickboxing, squash and running. However, bodybuilding, which I started at age seventeen, took over and became my passion.
Having started law school to become a barrister, I eventually chose not to take the bar exam in order to make this passion my actual occupation.
I have thus started studying in this field and passed at age twenty-three my diploma as a sports instructor (Professional Degree in Fitness and Strength Activities). My rigorous practising bodybuilding helped me rise from 139 lb at age seventeen to 170 lb at age twenty-nine for a 5'8 height, which considerably increased my self- confidence.
Moreover, in order to reinforce my knowledge base, I still learn daily from my clients as well as in my personal practice and researching. This is why, today, with a wealth of six years' experience and twelve years of practice, I am in a position to help you reach your goals in terms of sports as well as health and well-being.